Rover A FT 1536 Nested Based Cell with Labeling & C-Axis
This is a fully loaded 5x12 feed through cell with C-Axis and Automatic Labeling. $270,000.00 new!
MA ID:
RC3 - 13121
Status:
Sold
Price:

$160,000.00

Category:

CNC Router (3-axis)

CNC Router (4-axis)

Manufacturer:
Biesse
Model:
Rover A FT 1536 NBC
Year of Manufacture:
2016
Condition:
Very Good
Electric:
multi Voltage

Biesse Rover A FT 1536 NBC Nested Based Cell


CALL FOR AVAILABILITY

Machine Description:

Greatly Reduced Price from New at $270,000.00

Complete Fully Functional Automated CNC Cell. Has Automatic Labeling and Label Placement on the part prior to machining.

Machine was purchased for a project that has completed.

Infeed; 1550x3680 Scissors Lift (5 x 12 Sheets) w/3200kg (7054lb)

Thin Panel Loading (Upgrade) Parts 3 - 9mm

NC Controlled Sweep Arm (Upgrade) Parts 3 - 9mm

Auto Labeling

Working Fields:

X = 3765mm (148.2")

Y= 1585mm (62.4")

Z = Axis clearance = 120mm (with Sweeper Arm)

Axis Strokes:

X = 4580 mm (180.3")

Y = 2014 mm (79.2")

Z = 324 mm (12.7")

Spindle 27.5 Hp " Liquid Cooled" HSK 63F Speeds 1,000 to 24,000 RPM

Air Tool Option on Spindle to Blow Air Through the Tool-Holder

NC Controlled Dust Shroud Control 6 Height Positions

360 Degree C-Axis

Tool Changer 16 position

Tool Presetter

Additional Z Carriage for Boring Head

Boring Block 18 Spindle Programmable Speeds Up To 6,000 RPM

Outfeed Table; Automatic Belt to receive processed parts from "Push-off" on the CNC

(2) 360 m3/h Vacuum Pumps

Comes with BSolid and BNest Software

Weight:
17000 lbs
All Information including Photos and Videos are supplied by a 3rd party Source.
Please confirm all data before committing to a purchase.
*Subject to credit approval. Additional programs available.
More CNC Router (3-axis) Machines For Sale
More Biesse Machines For Sale
Click Here

for More Info
or call
Product Manager
Jon Daniel
877-622-4657 x103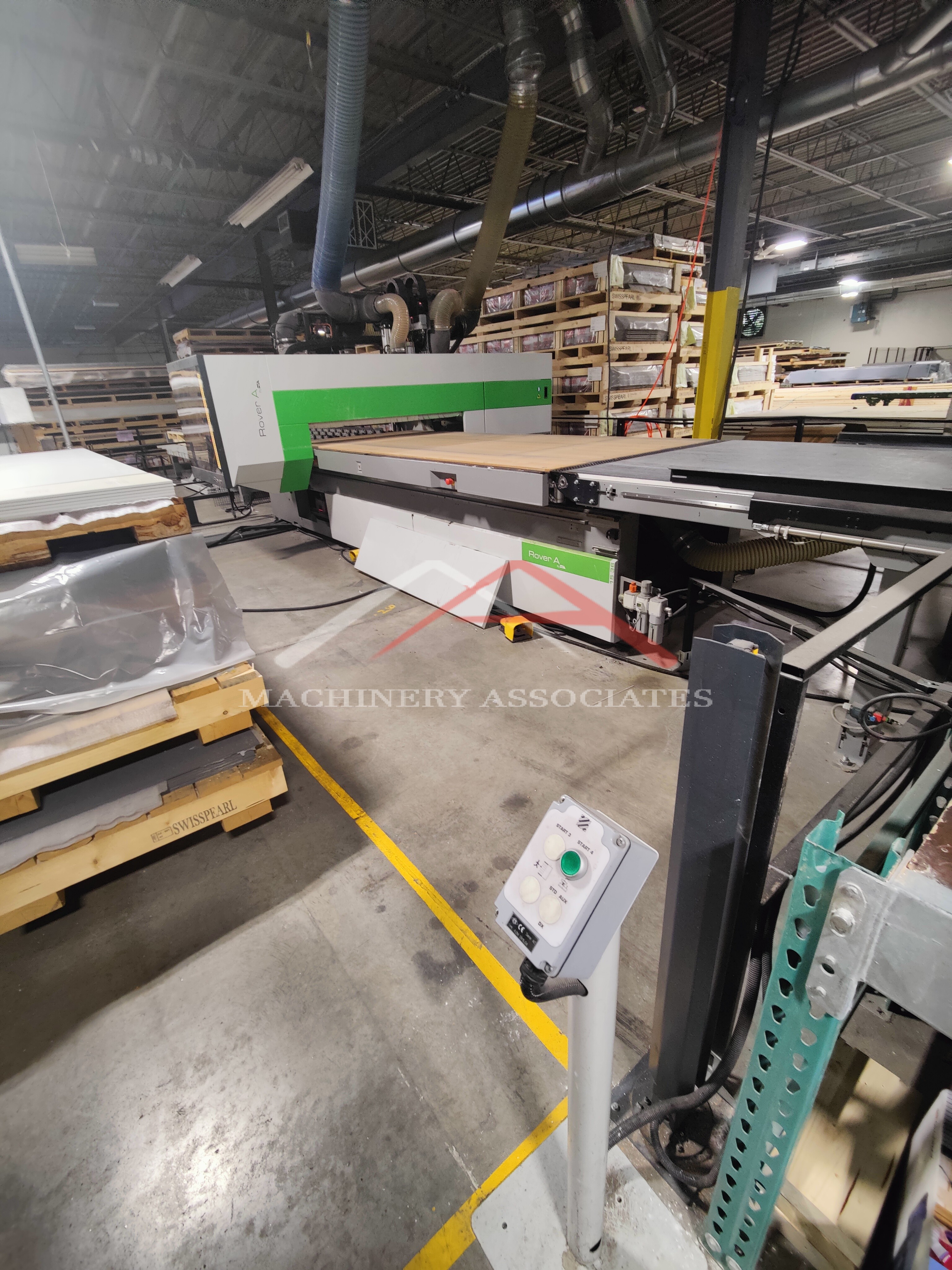 Actual Machine Cutting exterior wall panels
More CNC Router (3-axis) Machines For Sale
More Biesse Machines For Sale